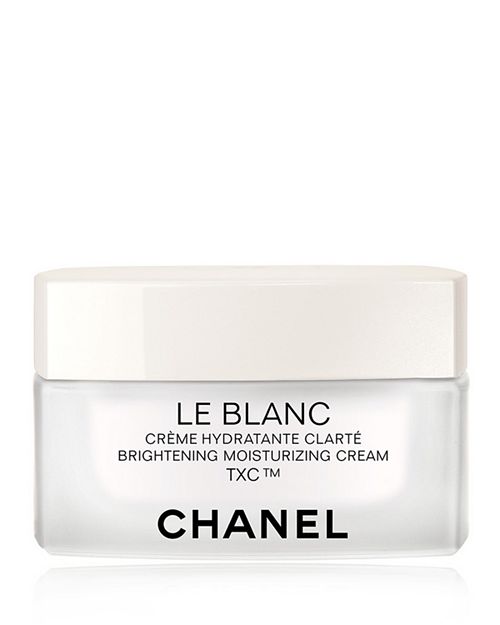 CHANEL
LE BLANC Brightening Moisturizing Cream TXC™
Brightening Moisturizing Cream TXC™
product details
For a brilliant, even-toned complexion, as perfect as a fine pearl.

The next generation of this radiance-boosting moisturizer provides immediate comfort, while visibly diminishing dark spots, soothing and deeply hydrating skin.

THE KEY INGREDIENTS

TXC™*:
This exclusive ingredient, a molecular powerhouse developed by Chanel Laboratories in Japan, delivers 12 intensive hours of brightening benefits. Immediately and over time, TXC™ offers unprecedented results:
• Helps diminish the appearance of existing dark spots
• Unparalleled brightness and evenness of skin tone
• New calming and soothing action

2-Year Pearl Extract:
This precious new LE BLANC ingredient, derived from carefully cultivated Akoya pearls** from Japan, provides intense hydration while smoothing skin. Enriched with glycine, the potent extract delivers:
• Visible improvement in the appearance of dull skin
• Enhanced radiance and clarity of the complexion
• Boosted hydration to help restore skin's natural suppleness

*Polyfunctional ingredient developed on the basis of a technology exclusive to Chanel. International patent application.
**Present in LE BLANC line.