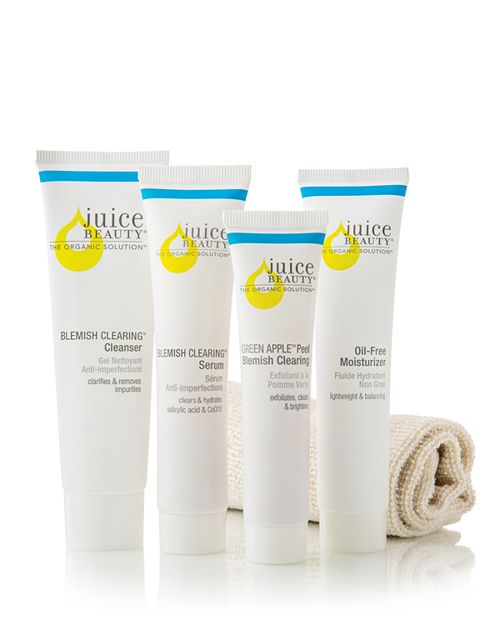 product details
This 30-day supply is the perfect organic solution to clear, healthy skin with four simple steps. Includes Blemish Clearing Cleanser 2 fl. oz., Blemish Clearing Serum 1 fl. oz., Green Apple Peel Blemish Clearing 0.5 fl. oz., Oil-Free Moisturizer 1 fl. oz. and an Eco-Bamboo Washcloth.

Juice Beauty's Blemish Clearing Collection clears while hydrating without harsh chemicals. Juice Beauty's powerful Blemish Clearing and oil control ingredients include salicylic acid, willow bark, organic fruit acids, Vitamin C and CoQ10.

Benefits & Ingredients: Clears and hydrates without the chemical stripping and redness action of harsh benzyl peroxide and petroleum products.

Who Should Use It: The Juice Beauty Blemish Clearing Solutions is designed for oily, combination and blemish-prone skin types.

Independent Focus Group Validated Results*
- 100% of participants saw definite blemish clearing improvement within 2 weeks.
- 94% of participants saw definite improvement to complete clearing within 4 weeks.
- 88% of participants saw definite to significant enhanced skin tone and texture with the Green Apple Peel immediately.

*Testing conducted with Blemish Clearing Solutions regimen. Individual results may vary.
This product is part of WellChemist, our clean collection of skin care, makeup and hair care that is free of sulfates, phthalates and parabens.
Web ID: 2435646