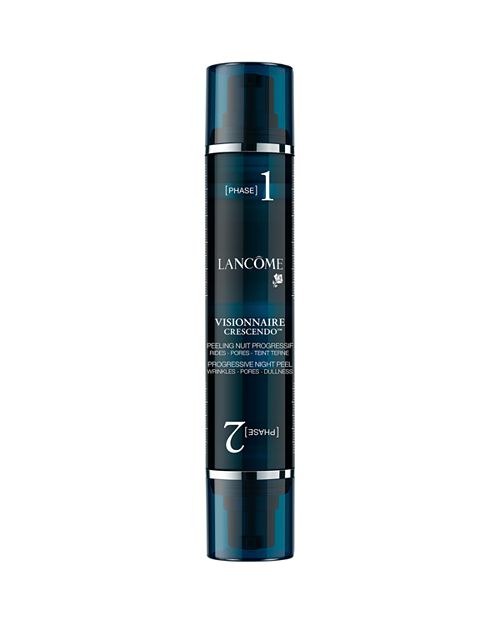 Lancôme
Visionnaire Crescendo™ Progressive Night Peel
product details
WHAT IT IS:
A dual-phase, leave-on, liquid night peel that provides multiple benefits in one system, resulting in accelerated results on dullness, pores, dark spots and wrinkles.

WHAT IT DOES:
Peel to reveal smooth, even and radiant skin! This easy-to-use, leave-on, liquid nighttime peel works to gently exfoliate skin surface cells and address multiple skin concerns: uneven skin texture, appearance of pores, wrinkles and fine lines and dark spots. Inspired by fitness interval training, Visionnaire Crescendo™ combines two different formulas each with their own unique ingredient combination to be used over a 28-night period as part of an interval skin training experience.

KEY INGREDIENTS:
• Fruit acids and quinoa husk extract
• Salicylic acid
• Pure glycolic acid

HOW TO USE IT:
1. Start with Phase 1 for the first 14 nights, formulated with 5% bio-acids such as fruit acids and quinoa husk extract that work to reduce the appearance of pores, improve skin's texture and radiance.
2. Then, switch to Phase 2 for the last 14 nights. Formulated with 10% derma-acids, including 0.5% salicylic acid and 9.5% pure glycolic acid, this phase reduces the appearance of fine lines, wrinkles and dark spots.
3. Repeat the 28-night skin interval training experience as desired. Visionnaire Crescendo™ is air-locked for optimal freshness, meaning that you may need to pump several times to activate each side of the bottle.